1) It is a great honour for us of ThrillerNord to have the chance to interview you. Thanks for the time you devote to answering our questions. "Silent Scream" is your first thriller. We heard that some of your books were refused by publishing houses in the past, leading you to self publish. Despite this hard start, now you are the queen of this literary genre . Did you expect such great success?

Yes, it is true that I was trying to share my work for many years and was rejected by all of the major publishing houses with many different novels. Eventually I self published two of my women's fiction titles which sold just a few copies each moth. I was given the opportunity to share my crime novels when a small digital publisher loved the Kim Stone novels as much as I did and took a chance on publishing my books. The Kim Stone series has now been translated into more than 20 languages and I am proud to say that Italy was one of the first countries to publish the books. I certainly did not expect this level of interest and every day I am thankful that I am now able to do something I love to do for a living.
Angela, è un grande onore poterla intervistare per Thrillernord, grazie per il tempo che ci sta dedicando. "Urla nel silenzio" segna il suo esordio nel mondo del Thriller. Abbiamo letto che in passato, alcuni suoi scritti sono stati rifiutati dalle case editrici, spingendola ad auto pubblicarsi. Nonostante gli inizi difficili, Lei è arrivata ad essere la numero uno. Si aspettava questo grande successo?

Si, è vero, per molti anni ho provato a proporre i miei lavori alle maggiori case editrici, ma venivano sempre rifiutati. Infine, mi sono auto pubblicata due romanzi di narrativa rosa, che purtroppo hanno venduto pochissime copie ciascuno. Ho finalmente avuto la possibilità di presentare ai lettori i miei romanzi thriller quando, un piccolo editore digitale si è appassionato alla serie di Kim tanto da correre il rischio di pubblicarla. Oggi la serie è stata tradotta in più di venti lingue e sono orgogliosa di dire che l'Italia è stata tra i primi paesi a pubblicare i miei libri. Certamente non mi sarei mai aspettata questo livello di interesse e mi sento grata ogni giorno perché ho la possibilità di fare quello che amo per vivere.

2) Kim is the main character of both your novels ( In italy only "Silent Scream "and "Evil Games have been published ). She's a very strong woman with a terrible past and she's still dealing with many troubles in her life. Could you tell us how this character came about? And what's about the minor characters, like Nicole and Alex?

The character of Kim had been in my head for many years but because of how brusque and rude she was I didn't let her out on to the page. After many years of rejected I decided to let her out and just write the book I wanted to write which was Silent Scream. Alex was devised as I had always wanted to write about a true sociopath, a person devoid of remorse or guilt and I wanted that character to be a woman.
Protagonista di entrambi i romanzi è Kim, una donna forte, dal passato molto tormentato e dal presente difficile. Com'è nato questo personaggio? Cosa può dirci dei personaggi secondari, come Nicole e Alex?

Il personaggio di Kim è rimasto nella mia testa per anni, ma a causa del suo essere così brusca e rude, non l'ho mai liberata nelle mie pagine. Dopo tanti anni di rifiuto ho deciso finalmente di lasciarla uscire, scrivendo il libro che ho sempre desiderato scrivere, Urla nel silenzio. Alex è esattamente come ho sempre immaginato di descrivere un vero sociopatico, una persona priva di rimorsi o sensi di colpa e volevo proprio che fosse una donna.

3) Some reviews have implied that Kim's character is quite "forced" because of her ability in solving cases, even in the most difficult circumstances. What is your answer to these critics?

The clues that enable Kim to solve the cases are always there. They may be obscure but there are always little hints along the way. I am very lucky that the majority of readers totally understand and identify with Kim even if they don't always like her.
Alcune recensioni hanno definito il personaggio di Kim un po' forzato a causa della sua abilità nel risolvere i casi anche nelle situazioni più difficili. Cosa risponde a queste critiche?

Kim è sempre circondata da indizi che le permettono di risolvere i suoi casi A volte forse sono più difficili da scovare, ma ci sono sempre piccole tracce sulla sua strada. Fortunatamente la maggior parte dei lettori si identifica, comprendendola completamente, con lei, anche se non sempre la apprezza.

4) You live in the Black Country, wich is also the backdrop for your stories. Can you give us your motivation for this? Are there other bonds between your personal life and your novels?

I had spent many years writing stories in locations that I thought editors and publishers would like. They weren't particularly locations well known to me so when I decided to write the story that I wanted to write I decided to base it where I live so that I could describe it accurately.
Lei vive nella Black Country e proprio qui ha scelto di ambientare le sue storie: c'è un motivo particolare? Ci sono altri legami con la sua vita nei suoi romanzi?

Per molti anni ho scritto storie, scegliendo ambientazioni che potessero piacere agli editori e alle case editrici, ma non erano luoghi che conoscevo particolarmente bene, così quando ho deciso di scrivere la storia che volevo, ho anche scelto di ambientarla nel posto in cui vivo, così da poterlo descrivere accuratamente.

5) At present, in Italy, only your first two novels have been published while in UK five have already been released. We can't wait to read "Lost Girl"! Could you give us some sneak previews as to what is in store? Will there be any important life changes for Kim?

I am very excited to share Lost Girls with the readers in Italy. When two young girls are abducted the kidnappers begin an auction with the two sets of parents for the life of their child. They are told that only one child will live.
In Italia "Il gioco del male" è uscito pochi mesi fa mentre in Inghilterra ha già pubblicato il quinto romanzo. In attesa di leggere Lost Girl può darci qualche anticipazione su cosa succederà nei capitoli successivi? Ci saranno cambiamenti in vista per Kim?

Sono eccitata all'idea di presentare Lost Girls ai lettori italiani. Due bambine vengono rapite e i sequestratori coinvolgono i genitori in un'asta per aggiudicarsi la sopravvivenza delle proprie figlie, sapendo che solo una di loro si salverà.

6) Have you ever considered the idea of turning your novels into screenplays for a tv show?

I do understand that this is a very exciting prospect for many writers but I only ever wanted to write books. As I am contracted to write 16 Kim books they will be keeping me busy for quite some time to come.
Hai mai pensato di trasformare i suoi romanzi in una serie tv?

Da quel che ho capito questa è una prospettiva molto allettante per tanti scrittori, ma io ho sempre e solo voluto scrivere libri. Inoltre il mio contratto prevede la pubblicazione di 16 libri della serie di Kim e penso che mi terranno molto occupata per i prossimi anni.

7) Let's talk to you as a reader now. Who are your favourite authors? Have you ever read any Scandinavian Thrillers? Are you a fan of this genre?

I am a fan of crime thrillers and read very chance I get. My favourites are Val McDermid, Lynda La Plante, Karin Slaughter and Carol O'Connell. I haven't yet tried any Scandinavian thrillers but I definitely have some on my list to try.
Parliamo per un secondo di lei in veste di lettrice. Quali sono i suoi autori preferiti?Conosce il genere del Thriller Nordico?

Io sono una fan del genere thriller e leggo in ogni momento libero. I miei autori preferiti sono Val McDermid, Lynda La Plante, Karin Slaughter and Carol O'Connel. Non ho ancora letto un thriller nordico ma ne ho qualcuno nella mia lista di libri da leggere.
Vi ringrazio moltissimo per l'intervista.
Thank you so much for asking me to participate.
Angela Marson
Intervista a cura di Manuela Fontenova e Maria Sole Bramanti
---
Di Angela Marson su Thrillernord: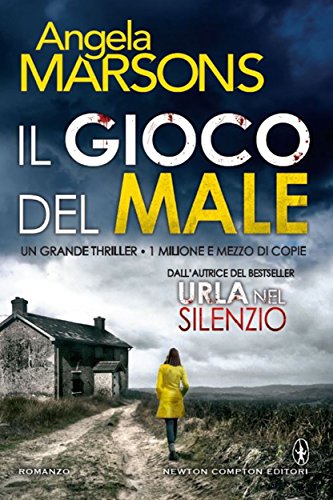 IL LIBRO – Quando viene rinvenuto il cadavere di uno stupratore, la detective Kim Stone e il suo team sono chiamati a investigare…