A tu per tu con l'autore
1) Your novels can't be considered traditional thriller books, as the reader is not only interested in the solution of the case but also gets struck by the themes which are developed throughout the book. Do you think that society could become more sensitised thanks to reading?
I am absolutely certain that reading widely all kinds of literature; world classics, drama, crime fiction, love stories, science fiction, poetry, what ever, is increasing idividuals ability to empathy, curiosity, open mindness and love and therefore it must affect on societies too. Parents should read to their children as much as possible, schools should courage kids into books, adults should shut their devices, Tvs and mobiles, and turn pages instead. My mother read me aloud a lot when I was a child and I´m pretty sure that this was one of the key elements for me to become a writer. I´ve always been a passionate reader. Usually I have 2-4 books going on simultaneuosly and usually one of them is poems. Nevertheless, my deepest reason for writing is not to affect on people or society, not even my books can be defined as politically and socially aware. I don´t want to deliver any messages. My books have a strong social message, that´s for sure, but I leave it completely up to the reader to take it or leave it. Nobody likes to be pushed into any direction. I´m a storyteller by heart and writing derives from a huge passion to create interesting stories.
I tuoi romanzi non si possono considerare thriller tradizionali. Il lettore, infatti, non è semplicemente interessato alla risoluzione del caso bensì rimane colpito dalle tematiche sviluppate. Quanto è importante sensibilizzare la società attraverso la lettura?

Sono assolutamente certa che leggere molto tutti i tipi di letteratura – classici, testi teatrali, storie d'amore, polizieschi, fantascienza, poesia, qualsiasi cosa – incrementi l'attitudine delle persone all'empatia, alla curiosità, all'apertura mentale, all'amore e ha delle influenze anche sulla società. I genitori dovrebbero leggere ai loro figli il più possibile, la scuola dovrebbe incoraggiare i bambini a leggere libri, gli adulti dovrebbero chiudere i loro apparecchi tecnologici e piuttosto voltare le pagine di un libro. Quando ero piccola, mia madre mi leggeva tanto ad alta voce e sono piuttosto sicura che questo è uno dei motivi per cui sono diventata scrittrice. Sono sempre stata una lettrice appassionata. Di solito leggo 2-4 libri contemporaneamente e uno di questi è quasi sempre di poesia. Ciononostante, la ragione più profonda per la quale scrivo non è influenzare la società o le persone, nemmeno i miei libri possono essere considerati come politicamente e socialmente consapevoli. Non voglio far arrivare alcun messaggio. Però di sicuro i miei libri hanno un forte messaggio sociale, ma lascio il lettore completamente libero di coglierlo o meno. A nessuno piace essere forzato verso una parte precisa. Sono una "raccontastorie" per vocazione e lo scrivere deriva da una forte passione per il creare storie interessanti.
2) How did you get the idea of Anna Fekete's series?

The idea for Anna fekete stories stroke me on my way home from work in the car. I was on the ferry (I live on an island) and just suddenly got a strong feeling that it would be wonderful to write a crime story. And almost immediately after that: I want my main character to be an immigrant police woman. Anyway it took nearly two years to get myself time to start writing. I was working as a special education teacher, had family etc etc, I simply had no time nor energy. But the idea did not leave me alone and so I decided to take a year off from my work and devote it for writing. It was a hard year moneywise but I was happy that I finally could write and so the first Anna Fekete book was born. It got a publisher in Finland almost immediately and here I am now, full time writer, travelling around the Globe because of my books, writing the fourth Anna Fekete story. It has been miraculous and wonderful.
Come nasce l'idea della serie di Anna Fekete?

L'idea per le storie di Anna Fekete mi è venuta in macchina, tornando a casa dal lavoro. Ero sul ferry (vivo in un'isola) e all'improvviso ho avuto la forte sensazione che sarebbe stato grandioso scrivere una crime story. E quasi subito dopo: voglio che il mio protagonista sia una poliziotta immigrata. Comunque sono passati due anni prima di iniziare a scrivere. Stavo lavorando come maestra di sostegno, avevo una famiglia ecc.. semplicemente non avevo né tempo né energia. Ma l'idea non mi aveva abbandonato e quindi ho deciso di prendermi un anno dal lavoro e impiegarlo per scrivere. E' stato un anno duro anche dal punto di vista economico ma ero felice di poter finalmente scrivere, e così è nato il primo libro di Anna Fekete. Ho trovato quasi subito un editore in Finlandia ed eccomi qui ora, scrittrice a tempo pieno, viaggiando per il mondo grazie ai miei libri e scrivendo il quarto di Anna Fekete. E' stato miracoloso e magnifico.
3) Each character is extremely realistic. The settings and circumstances are deeply captivating and believable. They also lets assume a really good knowledge of subjects at the base of History.

My books are completely fiction. No character has a paragon in real life. But of course I have had to research true police procedural, police law, crime investigation and other stuff. I have couple police officer who help me with practical information. I also use a lot of my knowledge about immigration, refugees and racism which dues to my academic studies and my work as a teacher for refugee children. I have also lived in Serbia in the town where Anna Fekete spent her early years, my ex-husband belongs to the Hungarian minority there. I speak fluent Hungarian too.
Ogni personaggio è estremamente realistico. Le ambientazioni e le situazioni sono fortemente coinvolgenti e credibili e lasciano presumere un'ottima conoscenza degli argomenti alla base della storia. Quanto la tua esperienza ha influenzato i tuoi libri?

I miei libri sono completamente inventati. Nessun personaggio ha un alter ego nella realtà. Ma certamente ho dovuto fare ricerche sulle vere procedure di polizia, legge, investigazione e altre cose. C'è una coppia di poliziotti che mi ha aiutato con informazione pratiche. Uso molto anche la mia conoscenza personale sull'immigrazione, rifugiati e razzismo grazie ai miei studi universitari e il mio lavoro di maestra di bambini rifugiati. Ho vissuto anche in Serbia, nella città dove Anna Fekete ha passato i primi anni, il mio ex marito appartiene alla minoranza Ungherese del posto. Parlo anche l'ungherese fluentemente.
4) The reader creates such a lasting bond with your detective. Can you tell us something about the future of this character?

As I told above that I´m now working on the fourth Anna Fekete book. It will most likely come out in Finland in January 2018. I want to write about Anna as long as I feel I have something important to say through her character. I will never be a series factory unless I really have a strong motivation to tell something via Anna. When ever I will feel that Anna´s story is over, I will start to do something else.
Il lettore crea un legame indissolubile con la detective nata dalla tua penna. Puoi anticiparci qualcosa del futuro di questo personaggio?

Come dicevo prima, sto lavorando al quarto di libro di Anna Fekete. Uscirà più o meno nel 2018 in Finlandia. Voglio scrivere su Anna fino a quando mi sentirò di aver qualcosa da dire tramite il suo personaggio. Non sarò mai una fabbrica di serie a meno che non avrò la forte motivazione di dire qualcosa attraverso Anna. Quando sentirò che la storia di Anna sarà finita, inizierò a fare altro.
5) By reading your biography, we can realise that you love Agatha Christie. Her works are milestones of crime novels. If you had to choose only one Christie's book, which would it be?

I read Agatha Christie when I was more or less 12 years old. My favourite ones are Miss Marple stories. One can never underestimate the intelligence and power of old women.
Leggendo la tua biografia emerge un grande amore per i lavori di Agatha Christie, dei capisaldi del giallo. Se dovesse scegliere un solo titolo di quest'autrice, quale sarebbe?

Ho letto Agatha Christie più o meno all'età di dodici anni. I miei preferiti sono quelli di Miss Marple. Non si può mai sottovalutare l'intelligenza e la forza di una vecchietta.
6) Is there any book that left a mark in your life as a reader? Did it inspire you as a writer?

There are so many books that have had a huge influence on me, can not name one or two. Toni Morrison, Margaret Atwood and Annie Proulx are among my favourite writers. At the moment I´m reading Stoner by John Williams and it may be the best book I´ve ever read.
Ci sono stati dei libri, non necessariamente del mondo thriller, che hanno particolarmente segnato la sua vita da lettrice ispirandola anche come autrice?

Ci sono molti libri che mi hanno influenzato, non ne posso nominare due o tre. Toni Morrison, Margaret Atwood e Annie Proulx sono tra i miei autori preferiti. Adesso sto leggendo Stoner di John Williams e potrebbe essere il libro più bello che io abbia mai letto.
7) Who are your favourite nordic authors?

Åsa Larsson, Karin Fossum, Håkan Nesser e Åke Edwardson.
Who are your favourite nordic authors?

Åsa Larsson, Karin Fossum, Håkan Nesser e Åke Edwardson.
Kati Hiekkapelto
Intervista a cura di Federica Gaspari e Anastasia Frollo
---
Di Kati Hiekkapelto su Thrillernord: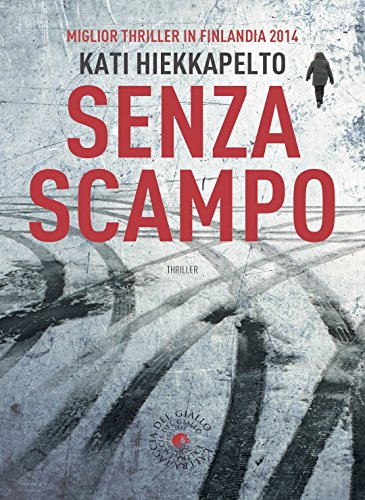 IL LIBRO – Lavorando su un nuovo caso, l'agente Anna Fekete, con il suo passato di immigrata dalla Jugoslavia ma di etnia ungherese…