A tu per tu con l'autore
---
I discovered you as an author last year with "The night singer" and I must say I was pleasantly surprised. Hanna is a different detective compared to other nordic thriller protagonists. How was her character born?
I wanted to write about what it's like to be related to someone who has committed murder. That is how Hanna started for me. Hanna had a great childhood in a small village on the island Öland until she was twelve. Then her mother died suddenly and both her father and brother started drinking. The week Hanna was graduating from high school her father got arrested for murder. Hanna's reaction was to flee, she moved to Stockholm and became a police. She lives for her work and has a hard time trusting people. When The Night Singer starts her father has died, and Hanna has just moved back to Öland and started working for the local police. She feels the need to finally deal with her trauma.
Ti ho scoperta lo scorso anno, come autrice, con "La morte viene di notte" e devo dire che sono rimasta piacevolmente sorpresa. Hanna è una detective diversa rispetto agli altri protagonisti del thriller nordico. Come è nato il suo personaggio?
Volevo scrivere di com'è essere imparentato con qualcuno che ha commesso un omicidio. È così che Hanna ha iniziato a lavorarmi dentro. Lei ha avuto un'infanzia meravigliosa, fino all'età di dodici anni, in un piccolo villaggio sull'isola di Öland. Poi sua madre morì improvvisamente e sia suo padre che suo fratello iniziarono a bere. La settimana in cui si stava diplomando al liceo, suo padre fu arrestato per omicidio. La reazione di Hanna è stata quella di fuggire, si è trasferita a Stoccolma ed è diventata una poliziotta. Vive per il suo lavoro e ha grosse difficoltà a fidarsi delle persone. Quando The Night Singer inizia, suo padre è morto, Hanna è appena tornata a Öland e ha iniziato a lavorare per la polizia locale. Sente finalmente il bisogno di affrontare il suo trauma.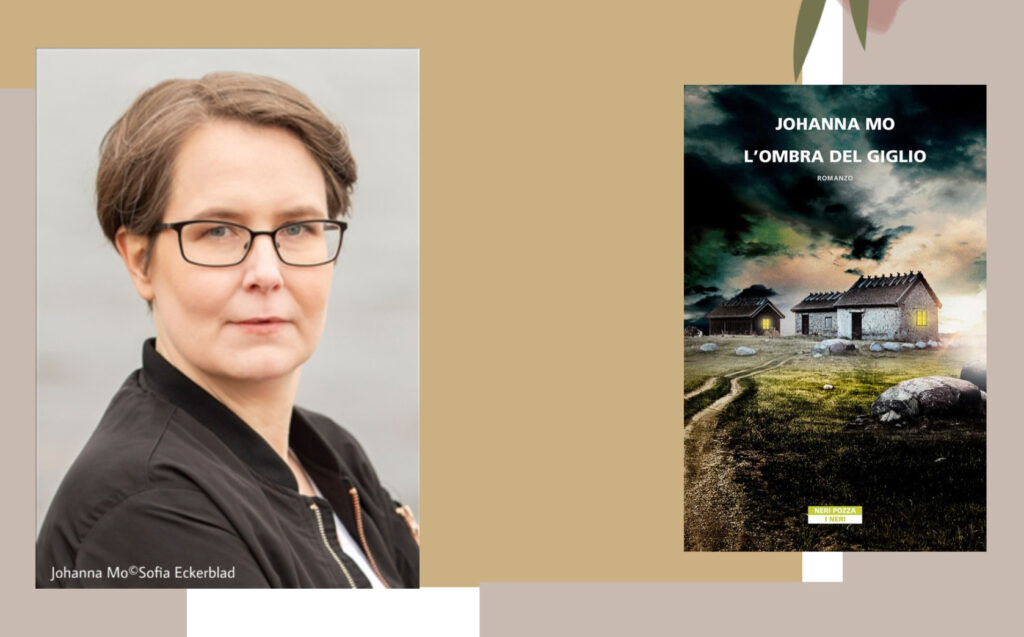 I had been waiting for the second novel "The shadow lily" and in my opinion it surpassed the first, which had only introduced all the characters. Your writing is clear and powerful and you make suggestive descriptions of the sea and the coastline. How important is it for you to set your novels in an environment that is close to the sea?
The environment was almost as important as Hanna when I started this series. It is the first time I write about the part of Sweden where I grew up. Öland is surrounded by the sea and the Island is very flat and exposed to the elements. I grew up on the mainland, but my grandparents had a farm on Öland so I spent a lot of time there. I have always felt connected to the sea and I wanted to write about what a physical place can mean to people. Hanna moves back in part because she really misses Öland. She never felt at home in Stockholm.
Ero in attesa di leggere il secondo romanzo della serie, "L'ombra del giglio" e secondo me ha superato il primo, che aveva solo introdotto tutti i personaggi. La tua scrittura è chiara e potente e descrivi in maniera molto suggestiva il mare e la costa. Quanto è importante per te ambientare i tuoi romanzi in un ambiente vicino al mare?
L'ambiente era importante quasi quanto Hanna, quando ho iniziato la stesura di questa serie. È la prima volta che scrivo della parte della Svezia in cui sono cresciuta. Öland è circondata dal mare e l'isola è molto pianeggiante ed esposta alle intemperie. Sono cresciuta sulla terraferma, ma i miei nonni avevano una fattoria a Öland, quindi ho trascorso molto tempo lì. Mi sono sempre sentita legato al mare e volevo scrivere di cosa può significare un luogo fisico per le persone. Hanna torna indietro in parte perché le manca davvero Öland. Non si è mai sentita a casa a Stoccolma.
It is interesting for us Italians to hear about the six month parental leave granted to fathers (we have only one week for fathers). How do Swedish men consider it?
The parental leave in Sweden is 480 days, 90 days of these are locked to each parent – but remaining days can be transferred. I can only answer about how my husband and I chose to solve it. We split the parental leave about 50/50 for both our children. We are not that uncommon in this, even though the mothers tend to take more of the leave than the fathers. We both wanted to bond with the children from the start and felt very strongly that we wanted to be parents on equal terms.
È interessante per noi italiani sentire parlare dei sei mesi di congedo parentale concesso ai padri (in Italia è prevista per legge solo una settimana). Come lo considerano gli uomini svedesi?
Il congedo parentale in Svezia è di 480 giorni, di cui 90 giorni sono riservati a ciascun genitore, ma i giorni rimanenti possono essere trasferiti. Posso solo rispondere su come io e mio marito abbiamo deciso di agire. Ci siamo divisi il congedo parentale circa al 50/50 per entrambi i nostri figli. Non siamo così rari nel fare così, anche se le madri tendono a prendere più congedi rispetto ai padri. Entrambi volevamo legare con i bambini fin dall'inizio e sentivamo fortemente di voler essere genitori in condizioni di parità.
Obviously "The shadow Lily" doesn't reveal the truth about Hanna's father, even though several hints are given. How do you think to develop this storyline in the next novels?
I started the series with a plan of three books, but realised rather quickly that I needed more books to tell the story of Hanna Duncker. The plan now is to write five books about her. In book three the reader gets to know almost everything about what happened when Hanna's father got convicted, in book four there is a trial and book five is focused on the aftermath.
Ovviamente "L'ombra del giglio" non rivela la verità sul padre di Hanna, anche se vengono chiariti diversi elementi. Come pensi di sviluppare questa trama nei prossimi romanzi?
Ho iniziato la serie pianificando tre libri, ma ho capito piuttosto in fretta che avrei avuto bisogno di più libri per raccontare la storia di Hanna Duncker. Il progetto ora è scrivere cinque libri su di lei. Nel terzo libro il lettore viene a sapere quasi tutto di quello che è successo quando il padre di Hanna è stato condannato, nel quarto libro c'è un processo e il quinto è incentrato sulle conseguenze.
In Italy we have very few biographical notes about you, except for a little basic information available on the internet. How would you describe yourselves to our readers? How much of Hanna is there in Johanna?
I've always wanted to be a writer. I've loved books since I learned how to read. Before I became a full time writer I worked as a translator, editor, literary critic, proof reader, teacher in creative writing etcetera.  I live in Stockholm with my husband and two children. There is some of me in Hanna, but not that much. I had a much happier childhood than hers. When I was fifteen my sister's boyfriend was arrested, and later convicted, for aiding and abetting in a murder. We were friends with his family. My father died very suddenly when I was 23 and I've also lost a younger brother. I'd say loss and how people deal with hard things is at the core of all my writing, but I'm a lot happier with my life than Hanna is when the series starts. I'm also not quite as self-contained as she is.
In Italia abbiamo pochissime note biografiche su di te, a parte le informazioni basilari disponibili su internet. Come ti descriveresti ai nostri lettori? Quanta parte di Hanna c'è in Johanna?
Ho sempre voluto essere una scrittrice. Ho amato i libri sin da quando ho imparato a leggere. Prima di diventare autrice a tempo pieno ho lavorato come traduttrice, editore, critico letterario, correttore di bozze, insegnante di scrittura creativa ecc. Vivo a Stoccolma con mio marito e due figli. C'è qualcosa di me in Hanna, ma non così tanto. Ho avuto un'infanzia molto più felice della sua. Quando avevo quindici anni il ragazzo di mia sorella fu arrestato, e in seguito condannato, per favoreggiamento in un omicidio. Eravamo amici con la sua famiglia. Mio padre è morto improvvisamente quando avevo 23 anni e ho anche perso un fratello minore. Direi che la perdita e il modo in cui le persone affrontano le difficoltà è al centro di tutta la mia scrittura, ma sono molto più felice della mia vita di quanto non lo sia Hanna quando la serie inizia. Inoltre, non sono così autonoma come lo è lei.
Interview: Marina Toniolo
Translation: Denise Antonietti, Sabrina De Bastiani
Acquista su Amazon.it: