Review by Cristina Bruno

---
Author:

Martin Cruz Smith
Publisher: Simon&Schuster
Literary genre: thriller
Pages: 276
Publication year: 2019
Synopsis. Journalist Tatiana Petrovna is on the move. Arkady Renko, iconic Moscow investigator and Tatiana's part-time lover, hasn't seen her since she left on assignment over a month ago. When she doesn't arrive on her scheduled train, he's positive something is wrong. No one else thinks Renko should be worried, Tatiana is known to disappear during deep assignments, but he knows her enemies all too well and the criminal lengths they'll go to keep her quiet. Renko embarks on a dangerous journey to find Tatiana and bring her back. From the banks of Lake Baikal to rundown Chita, Renko slowly learns that Tatiana has been profiling the rise of political dissident Mikhail Kuznetsov, a golden boy of modern oil wealth and the first to pose a true threat to Putin's rule in over a decade. Though Kuznetsov seems like the perfect candidate to take on the corruption in Russian politics, his reputation becomes clouded when Boris Benz, his business partner and best friend, turns up dead. In a land of shamans and brutally cold nights, oligarchs wealthy on northern oil, and sea monsters that are said to prowl the deepest lake in the world, Renko needs all his wits about him to get Tatiana out alive.
Review 
Arkady Renko is an investigator of Moscow Police. Because of his history he is a maverick, an own man who always follows the track, without worring about stepping on anybody's toes. And so even in this new adventure that drives him to Siberia. Tatiana Petrovna, his partner, is an intrepid journalist e she is investigating a dangerous ground, regarding large oil fortunes of Russian oligarchs.
To build the story, the women chase the nomination of Mikhail Kuznetsov, a Russian oil tycoon who wants run against Putin in new election. He launches his campaign from Irkutsk and beside him there is another oligarch, Boris Benz. Between the two men there is a love-hate relationship, based on an apparent mutual respect.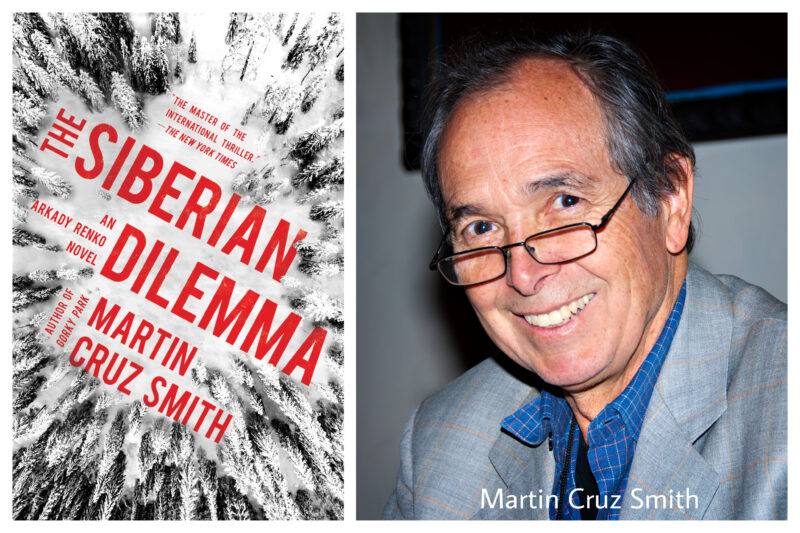 Arkady has not heard from Tatiana and so he decides to travel to Siberia. The pretext is to investigate on a suspected attack against Moscow State's attorney Zurin.
On the plane Arkady meets Bolot, a funny Buryat who becomes his factotum in Siberia and he will be essential for successful of investigation. For Arkady it won't be easy to get back home safe and sound with Tatiana because in Russia the war for power between oligarchs is merciless. The first who pays the price is Benz, during a dangerous bear hunt. But he will be not the last victim…
Who doesn't remember Gorky Park, the first famous book, become movie, with protagonist Arkady, dark and handsome? The series began there and it has continued over the years with many other cases for the Moscow investigator who leads his work tenaciously and with strict principles of honesty.
The context in which Arkady moves is described with acumen. The reality of a particular world, such the Russian one is, is viewed through the eyes of a Western man who knows to catch true shades and glimpses of landscapes and souls that leave a mark.
Past and present Russia are so similar for palace intrigue, inertia of bureaucratic machine, never-ending battle for power, between lots of vodka, the magic little water that anesthetizes all andmakes all you forget.
The meaning of Akady's proceeding can be summed up in few words regarding Siberian dilemma, well explained in the book: "A fisherman is on a frozen lake. He moves around, listening all the time for the ice cracking beneath his feet, ready to jump back to thicker ice if necessary, but sometimes he's not quick enough.
The ice breaks. He falls in…. If he pulls himself out of the water onto the ice, he'll freeze to death in seconds, a minute at most. If he stays in the water, he'll die of hypothermia in five." The lesson is it's better to take action than be passive," he says. "Better to fight than to surrender, even if you know you're going to die."
And that's just what Russians do every day. This is their secret to survive in a world of snow, ice and white birch forests.
Edited by Cristina Bruno

http://fabulaeintreccio.blogspot.com/
 Martin Cruz Smith
---
Martin Cruz Smith: was born in 1942 in Reading, Pennsylvania and his novels include Gorky Park, Stallion Gate, Nightwing, Polar Star, Stalin's Ghost, Rose, December 6, Tatiana, The Girl from Venice, and The Siberian Dilemma. He is a two-time winner of the Hammett Prize, a recipient of the Mystery Writers of America's Grand Master Award and Britain's Golden Dagger Award, and a winner of the Premio Piemonte Giallo Internazionale. He lives in California.
Buy on Amazon.it: